The roles of marketing, communication, distribution, and organization have become more simplified because of technology. Companies quickly change their computer models and adopt technology to carry out product demonstration events, trade shows, software training events, etc. Renting desktop computers means that companies have an opening to entirely shift their focus to core business practices rather than stock control. Our web presentation kits provide you with all the components you need for the next event, and access to the latest features on the market.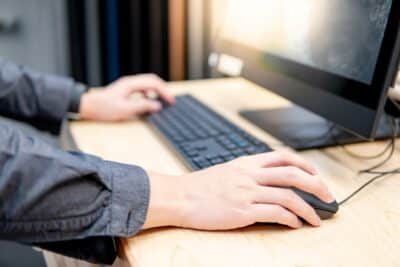 One-Stop Computer Rentals
OneStopAV rental is a company focused on building partnerships with our customers while providing superb products and services. We are a one-stop-shop for all your technology equipment needs with years of experience and hundreds of computer rentals to choose from. Our highly sought-after brands include Lenovo, Apple, Dell, HP, and more.
Laptop Rentals
You need a computer that can provide maximum data security, performance, simplicity, and lightning-fast connectivity. Browse through our wide selection of laptop rentals.
iPad Tablet Rental
The iPad has many features and benefits to ensure that it provides you maximum security and ease of data retrieval. It's also suitable for organization, planning, presentation, and documentation.
Gaming Laptops Rental
Gaming laptops are increasingly becoming popular with the steady growth of eSports. Slow response times, overheating, and sky-high prices should not stop you from immersing in the gaming world. Our rental services provide you with the latest in laptop graphics and software.
Software Rentals
New releases from Windows and Apple ensure that you get the most out of your operating system. Windows 11 caters to all your needs, bringing forth exciting new features and a beautiful and consistent design. The scheduled Windows 11 update (22H2) supports Android applications. Apple's recent release Monterey brings enhanced upgrades to the market, faster connectivity, improved privacy features, universal control, etc. We also have the latest in stock from Microsoft (Office 2021). Should you require the previous versions, feel free to contact us.
Accessories
Ethernet Switches
Mouses
Keyboards
Personal hotspots
TV stands
Presentation remotes
Why Choose OneStopAV?
Nationwide Computer Rental
Our highly trained team not only provides local support in Franklin, MA, but we also ensure that lead times are kept at the minimum by providing delivery throughout the USA.
Top-Shelf Service
In the audiovisual industry, customers' needs are everything. Ranging from the essential cable connections to more advanced software applications, all our clients have access to custom rental configurations to match their needs.
Short-Term Computer Rentals
Do you require short-term, low-end, mid-range, or high-end merchandise? We've got you covered. You can rent computers and AV equipment for your upcoming corporate events irrespective of the location, the timeframe, or the telecommuting needs.
Rental Purchase Agreement
We only rent to businesses, and our rental-purchase agreement requires residence verification, income, and personal references. We also offer a flexible payment option on the cash price, although the total cost may vary from item to item.
IT Services and Solutions
We offer solutions for your audiovisual needs, including professional web presentation kits for virtual conferences and interactive touch solutions. All the brand names, registered trademarks, and images belong to their owners. For inquiries, call us at 800-782-1706 or contact us online.