Are you planning your next conference or corporate event? Will you need to show videos or presentations at your event? If so, you should consider renting a projector so that you can present information to a large crowd and make your event a success!
Renting projectors can make events easier, faster, cheaper, and hassle-free. At OneStop AV, we provide a range of computers and audiovisual rentals, including projectors, projection screens, microphones, speakers, PA system equipment, and more. We can provide high-quality projectors and screens to enhance any business function or other event across the United States. Call us for a quick quote at 1-800-782-1706 today!
As a professional rental services company, we have the computer and audiovisual equipment ready to help with whatever you need. Whether for small meetings or large conferences, our team is eager to assist with your next event by providing a wide variety of video and audio equipment solutions. Not sure what your event will require? Our experts can advise you on which items would best suit your needs.
What Is the Purpose of a Projector?
Projectors allow you to display images, videos, data, presentations, charts, graphs, maps, documents, and other electronic files on a large screen. In short, they enable you to share information with a group of people. Also, projecting images makes things easier, quicker, cheaper, and more comfortable than trying to do this using only a laptop or computer monitor. When combined with a sound system, a good quality projector enables you to hold a meeting or give a presentation with ease and style.
It is ideal for presentations at trade shows, conventions, seminars, company orientation sessions, and many other applications where it is necessary to deliver large amounts of content quickly and effectively.
How to Pick the Right Projector for Your Event?
OneStop AV has quality projectors to fit every event type. When selecting a projector, several things need to be considered: image quality, size, type, brightness levels, pairing sound systems, and ease of use.
High definition (HD) projectors can display up to three times as many pixels as standard definition projectors, giving off sharper images. The higher the projector's resolution, the sharper and more vivid the images become. High-definition (HD) requires at least 1080p.
The size of the projector determines how far away from the screen the audience must sit; this distance is known as the throw distance or the throw ratio. Generally, the larger the throw ratio, the bigger the covered area and the higher the contrast ratio. A good rule of thumb is to select a projector whose throw ratio is above 1.5:1. Our projectors at OneStop AV have a throw ratio of 1.77:1, making them excellent options for most venues.
The brightness level of the projected image also plays a significant role when choosing a projector. Depending on the type of room and lighting conditions, you can choose a projector that produces bright enough light for both indoor & outdoor events. Brightness refers to the number of lumens produced by a projector, such as a lumen per watt or peak luminance. The best outdoor movie projectors have 2,000 to 2,500 lumens for high-quality viewing. Our projector is equipped with 5,000 lumens of output and is perfect for daytime events.
Projects come in two main types: LCD and DLP. Each offers unique advantages and both are very popular. An LCD projector has a sharper image and improved picture quality, whereas a DLP projector is lighter, more portable, and more reliable. We recommend our Panasonic PT-VZ580U LED projector for maximum versatility because they're easy to set up and use. Its image resolution and color accuracy make it more suitable for home or office.
A sound system is vital to an effective presentation. You might want a high-definition projector with built-in speakers if you want to include sound in a smaller space. You might want an external speaker system with a microphone if you are presenting in a larger space.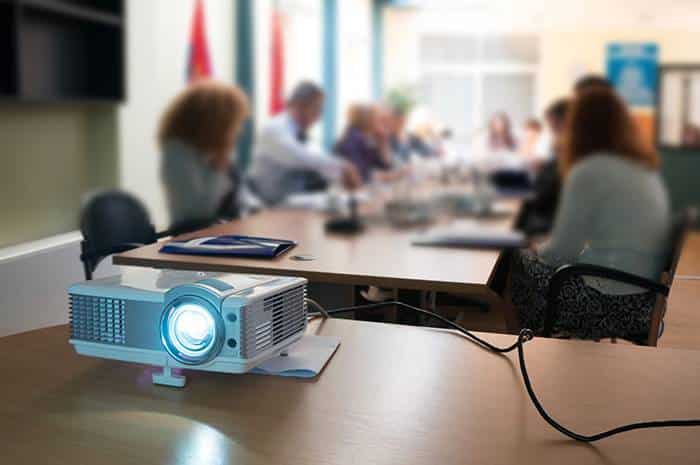 Why Should You Rent a Projector for Your Next Event?
Renting a projection unit allows you to save the time, money, headaches, and stress that comes with buying one. Unless you are giving presentations like this every day, any projector you buy will just sit unused somewhere most of the time. And like most electronics, projectors are constantly evolving and getting better technology. An unused projector will quickly lose its value.
Many people think that purchasing their projector is the way to go; however, opting for a rental is the smarter option if you want the latest equipment for a fraction of the cost and do not have to worry about buying an upgraded version when yours becomes too out of date.
Additionally, you can be sure that your rental unit will arrive at your venue on time, ready to use, and calibrated perfectly. Our team of experts will be on standby to help if there are any technical issues such as connectivity problems. All maintenance contracts are included in the rental cost, saving you even more on your down payment.
Renting a projector means that all aspects are taken care of for you; there is no guesswork. It is important to note that renting a projector doesn't mean you have to compromise quality. We offer top-of-the-line models that are guaranteed to deliver exceptional results. Our clients always receive the highest quality products at affordable rates. Call us today at 1-800-782-1706 to find out how we can help you host a successful event.
If you are still not sure whether to purchase or rent your projector, here are 5 reasons why you should consider renting a projector instead of buying a new one.
Suitable for a Large Audience
Not all projectors are suited for big audiences. Most of these units are designed for use at meetings, conferences, seminars, etc., where there are fewer attendees. Imagine how frustrating it would be if you invested thousands of dollars in a projector only to find out at the last minute that it was not suitable for the size of the crowd at your event!
No matter what kind of event you are planning, you shouldn't lose sight of the fact that there might be quite a few attendees who can't see the presentation clearly due to various factors such as dimming lights, ambient noise levels, etc.
Rental units allow you to accommodate different sizes of crowds without investing in many extras. With this approach, you can concentrate solely on delivering great content to your guests.
Audience-Centric Visuals
Keeping the audience engaged through visuals is an integral part of any presentation – whether you decide to use them along with text slides or display video clips from media sources, you'll quickly realize that a good quality projector allows you to create stunning imagery. Adjusting brightness settings, contrast, color, hue, saturation, and other visual details gives both audio and visual presentations a professional appearance.
If you cannot afford to purchase a new projector or want to avoid investing in one, renting one could be the ideal solution. Renting a projector will ensure that you have the option to choose the best possible model for your needs, enabling you to deliver visually impressive images that keep your audience captivated throughout the duration of the event.
New Technology Has Great Image Quality
Most people who attend events are keenly interested in everything they see. If your projector is anything less than exceptional, many potential clients will never view your message. The best way to achieve maximum impact with your presentation is by utilizing high definition clarity and vibrant colors.
When considering which type of projector you need for your next meeting, conference or seminar, make sure that the brand name you select is equipped to provide incredible results. A higher resolution comes with better picture quality, so you don't need to spend days researching the best available models that suit your requirements. Pick up the phone and ask for an expert recommendation at 1-800-782-1706.
Ease of Use
Renting a projector is a lot simpler than buying one. Most event planners prefer to rent instead of purchasing because they are looking for a hassle-free way to get their equipment ready for the event. Once your projector arrives at your location, setup takes only minutes.
Our experts will even explain how to use it so you can start enjoying your presentation right away. No more hours spent hunting down technical manuals and software updates.
Cost-Effective
A projector rental service can save you hundreds of dollars compared to purchasing one yourself. This approach also ensures that you are using the latest technology designed with state-of-the-art features to give you the highest level of performance.
In addition, if something does go wrong, our experts will take care of it immediately, ensuring that you always receive outstanding customer support.
When searching for the perfect rental unit to meet up with some of the top names in the industry, we strive to satisfy all of our customers. Check out our projectors today!
What OneStop AV has to offer?
Whether you are planning corporate meetings, training seminars, workshops, product launches, annual meetings, or other special events, renting a projector can help you streamline the process while providing a much-needed focal point for your guests.
Great Quality Projectors
We offer high-quality projectors from leading brands like Panasonic. These highly efficient products boast superior brightness, contrast ratio, and accurate color reproduction. They perform steadily over time, making them the perfect choice for business presentations or any event requiring longevity.
With high brightness of up to 5,500 lumens, these units are ideal for presentations where audience members need to see clearly what's being shown. Our projectors come with a complete remote control function allowing you to change focus, zoom, power off/on, etc., just like in a home theatre environment.
Our projector rentals come fully loaded with all the necessary accessories, including cables, adaptors, and calibration tools, to ensure that they work optimally right out of the box. Our expertise extends beyond simply renting the equipment; we have years of experience providing customers with assistance before, during, and after their events.
No matter your budget or your particular needs, we are confident that we can provide the perfect projector rental solution for your next event.
Projection Services and Setup
We specialize in offering professional-grade projection solutions for business use. Whether you need a basic presentation system or something more advanced, we are ready to serve you with confidence and professionalism.
Our experienced customer service reps are also available to assist you with any questions and offer other support.
Assistance with choosing the best model based on your needs.
Complete setup of your rental unit before it ships.
Providing additional materials such as projector screen rentals and sound system equipment.
Setup of custom packages tailored to your specific needs.
Fully trained experts from OneStop AV can support you through the entire duration of your event (from planning to wrapping up) by providing expert guidance on how to keep downtime minimal and maximize productivity, whether that means troubleshooting minor issues or assisting with more complex tasks like changing bulbs, calibrating projectors, or cleaning lenses.
Our team of professionals will be at your disposal from start to finish. Just let us know when you book, and we'll get right down to work. We're always happy to ship the equipment directly to your venue if required. If you would like to learn more about our rental services, please contact one of our friendly representatives today!
Why Choose OneStop AV as Your Projector Rental Company?
Renting a large screen projector allows businesses to bring their message to life in new ways. We can help you choose the best professional-grade projector for your needs, from corporate events to educational conferences to even outdoor movie rentals.
Affordable rates: We offer competitive pricing on all rentals. We know what it costs to purchase and operate each piece of equipment, which means we can pass those savings on to our customers.
High-capacity rentals: We carry a large inventory of projectors, screens, and displays. Whether you require a few units or dozens, we can accommodate any size request.
Experienced support: We want you to be delighted with your rental experience, whether you have questions about ordering a specific model or would like assistance setting up your equipment. Our friendly team members are here to help you every step of the way.
Nationwide delivery: All orders placed through us are delivered nationwide. We can ship projector rentals to offices, hotels, convention centers, and other remote locations.
On-time service: We pride ourselves on being prompt with deliveries. We can usually schedule items within 24 hours of placing an order with our highly efficient logistics operations team.
OneStop AV offers affordable and convenient ways of presenting your ideas and concepts. We help you convey your unique and creative content according to what is required during each meeting and conference. We work hard to ensure all aspects of your equipment rental are carried out smoothly. By partnering with us, you will be able to give your audience the most effective presentation.
If you're thinking about booking a projector for your next event, why not reach out to us today and find out what we offer? Call 1-800-782-1706 for more information or to leave feedback.