As a major hot spot for technology, Philadelphia is home to some of the world's premier companies and universities concentrating on technology innovation. The city has an incredible concentration of creative economy jobs and career opportunities in tech, making it one of the most exciting places to live and work today.
When you search for an effective means to keep your company up-to-date with the latest technologies or want to ensure every team member has access to cutting-edge equipment, renting laptops from OneStop AV can be a great option in the Philadelphia area.
Whether your organization is a startup or a large corporation, our business laptop rentals have numerous benefits that will help you stay competitive in today's fast-paced environment.
OneStop AV technology rentals provide flexible solutions to fit any business's needs. Our state-of-the-art rental fleet includes all types of top-tier laptops and tablets that will meet all of your technical requirements.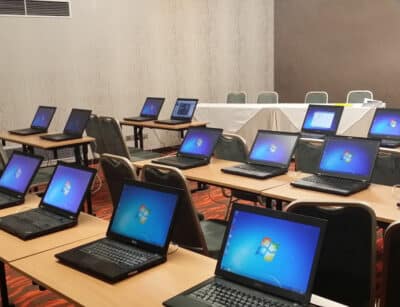 Full-Service Laptop Rental Solution for Businesses and Events
With OneStop AV, you won't ever have to worry about finding a suitable device because we always carry a wide selection. We have a large inventory of laptops, including basic PC laptops, Mac laptops, and high-end gaming laptops. If you need to connect to multiple screens, we offer a variety of multimedia displays, including TVs, monitors, projectors, and screens. We also can provide you with a tablet rental!
Our events division provides comprehensive support for corporate and professional conferences, seminars, trade shows, conventions, training sessions, and gaming events. It doesn't matter if you need something simple for brainstorming sessions or something for clients to use at a conference; you'll have everything you need when renting laptops and other computer equipment from OneStop AV.
From preparing laptops for small groups to large audiences, our experienced technicians can handle anything that comes their way. We can even accommodate the need for thousands of laptops at once.
If you are hosting an event featuring presentations, our MacBook Pro laptops are perfect for video editing and showing. These sleek machines are equipped with a 16″ display and powerful Intel Core i9 processor that deliver outstanding performance. If you prefer the processing power of a PC laptop, like a Lenovo or Dell, we have Windows laptop rentals as well. They come fully loaded with the latest operating systems like Windows 11.
The Business Rental Partner You Can Rely On
We're your one-stop shop for both short-term rental and long-term leasing of laptops for businesses and events in Philadelphia, PA. When renting a MacBook, ThinkPad, or gaming laptop, OneStop computer rentals is the best partner.
We'll take care of everything – including recommending the best-suited laptops, installing appropriate software, gathering the necessary accessories, scheduling delivery, and troubleshooting – so you don't have to spend time worrying about details. Simply leave it to our expert team.
With us, you get:
Daily, weekly, and monthly rental periods
Latest event technology
A diverse portfolio of Mac and PC rentals
24/7 technical support and nationwide delivery
Custom software and settings preloaded
Best rental price guarantee
Philadelphia Business and Venue Service
Are you looking for a solution to equip your employees with the latest computers? Do you require new equipment for a company meeting or corporate event?
Our full-service technology rental program allows you to fulfill your computer requirements quickly. Whether you are hosting an event in Philadelphia, PA, or elsewhere across the country, we have the equipment you need to help you put on successful business events or support your growing company.
In addition, we can service every Philadelphia venue, conference center, or office space. When ready to rent laptops in Philadelphia, call today at 1-800-782-1706 to speak with one of our specialists. You can also request a quote online.