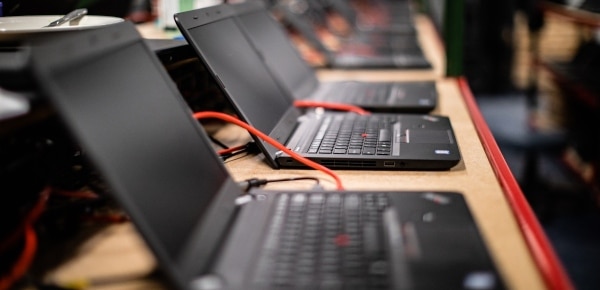 Boston, Massachusetts is a bustling city with countless opportunities to start, grow, or expand your business.
If you're just building your company and considering what computer equipment to get for your team, you might wonder if renting laptops would be worth it. Perhaps you already have computers for your primary team, but are hosting a conference and need to rent laptops for visiting colleagues. Maybe your business is expanding and computer rentals make more sense than investing in brand new equipment at the time. Or you are organizing a conference or seminar and having access to the right number of portable screens will ensure everyone can get important information throughout the event. Whatever the case, there are plenty of reasons you should consider renting laptops for your company.
Whether you need a temporary solution until you find a permanent facility or want to test out the latest technology, laptop rentals can help keep your business moving forward.
OneStop AV offers Boston laptop rentals and more to meet all your needs. You can also rent computer accessories and other audio-visual equipment like projectors, monitors, printers, microphones, sound boards, and much more to help make your event a success. We even have tablet rental and gaming laptop rental for unique events.
The following list highlights some of the most important factors to consider when businesses rent laptops in Boston.
Determine If Renting Is an Ideal Option
Before investing any money in rental equipment, ensure it's necessary for your business.
If you are a small business owner and don't have the funds or resources to purchase laptops, you should consider renting them.
For large businesses with numerous employees and high turnover, buying new computers can be cost-prohibitive and leave you with unused inventory. Renting new computer equipment allows you to save on capital expenditure and purchase more equipment in the future.
Many corporate events or conferences attract hundreds, if not thousands, of participants. If you buy laptops for even half of them, that can be a huge expense and leave you with a lot of equipment once the event is over. Computer equipment rentals can provide an easy solution; as do rental projectors, screens, audio equipment, and so on.
Renting laptops expands your options when making decisions for your business. You will want to go over the details before deciding whether renting is right for you.
Know the Laptop Rental Prices
When you decide to rent laptops, you must understand what the fee entails. It's important to know how much it will cost so you know how it compares to purchasing the equipment outright. You also need to make sure it fits within your budget.
Be sure to thoroughly read all the terms of your agreement and understand exactly who is responsible for what. If your computer rentals needs certain specifications, software, or accessories, ensure it is all written in the lease agreement for the rental laptop.
Think About What Device You Need
The most important thing to look for when renting a laptop is what device suits your needs best. Consider everything, such as the screen size, RAM (memory), CPU speed, storage capacity, keyboard, mouse, and operating system.
If your business uses graphics-intensive applications, you might require a higher-end machine. However, if you usually work with simple applications like text documents or internet browsers, then a lower-end model could be better and more cost-effective.
It's recommended that you get a laptop that meets your exact requirements. This way, you won't waste your money by paying too much for something that doesn't fulfill your functional demands.
To rent gaming laptops, give us a call today at 1-800-782-1706.
Check Available Brands
Make sure the rental provider has adequate stock of various models from different manufacturers so you can choose the most suitable ones depending on your preferences and needs.
During a conference, there might be a preference for Apple laptops due to familiarity and user ease. On the other hand, you might prefer using Windows-based machines because of compatibility with other equipment.
Also, don't forget to check the reliability of your computer rentals, especially those used for business purposes. Ideally, the rental company should have high-quality brand-name laptops in its inventory.
Review Laptop Configurations
Apart from choosing the model you need, you should take into consideration what configuration you'd want. For instance, some people would prefer having high-capacity RAM, whereas others would rather have more hard disk space.
It's vital that your provider must carry the newest hardware configurations. Here are a few things to consider when selecting the perfect rental laptop for your company:
Operating System – If you're an advanced user who utilizes multiple applications simultaneously, Mac laptops might be the way to go. Most developers and design professionals prefer Linux-based OS. However, if your rental laptop will be used primarily to run multimedia software or for lesser development tasks, go with Windows.
Memory Space – If you're planning to do any heavy data crunching, you may need to allocate a minimum amount of memory. This ensures you can easily handle large files without experiencing a slow down during your trade show or conference presentations.
Processor Speed – If you're running complex programs, ensure the processor speed is high enough. Your program should not stutter while working. Intel Core i5 or Core i7 processors will suit all types of users. For gamers, you need Intel Core i7 or Core i9.
Generation – Newer generations of technology provide better performance and efficiency. They help boost your productivity and improve overall usability. To keep up with the latest trends, opt for new versions every year.
Graphics – If you work in design or another field that uses intricate graphics, make sure the laptop you've chosen comes equipped with powerful GPUs. These enhance the experience and enable you to work smoothly. The NVIDIA GeForce RTX 3080 makes it possible for you to run the latest design software and see all the details.
Applications – Before renting a laptop, make sure it comes with all necessary software installed like Adobe Photoshop, Microsoft Office, Chrome browser, etc. If you are one of the many businesses that use Microsoft Office software for their day-to-day activities, it's essential that you rent a laptop with an Office 365 subscription. The Boston laptop rental company should be able to offer the software you need.
The success of your event is dependent upon how well prepared you are. That includes getting the right equipment. Choosing the configurations essential for delivering a great presentation, running a successful training event, providing the right tools for your employees, or whatever else.
At OneStop AV, we have the latest technology rentals. Our high-end Boston laptop rentals are equipped with 10th-generation CPUs that deliver lightning-fast processing speeds. Our gaming laptop rentals are powered by NVIDIA GeForce RTX 3080 graphics cards. With up to 2TB storage options and 64GB DDR4 memory, our powerful Apple MacBook Pro laptop computer rental is ideal for both professional and creative needs.
Service & Support
Choosing a computer rental company that delivers prompt service is another important consideration. Your service provider should be able to deliver, support, upgrade, repair, and replace your laptop rental in a quick and efficient manner. Some companies only drop off your equipment and then disappear. Ask questions about what support services are offered before signing on the dotted line.
When you rent with OneStop AV, our technicians are always available to troubleshoot or offer support if you encounter any issues.
Try Sample Units
It may sound silly, but it pays to try out sample units before you are standing on a stage with thousands of people watching you. This way, you can check how they perform and whether they meet your requirements for a presentation or training.
System Setups Before Event
When you are hiring a laptop rental company for the upcoming press release, product launch, or any other events, it is important that you have the setup completed before attendees arrive at your location. If you do not have a staff technical support person available, enquire if the rental company can assist you with setting up your systems.
If you decide to rent multiple devices, consider discussing your requirements and preferences beforehand, so you know what you want to achieve and how best to reach your goals. This way, you will be able to avoid surprises during delivery and setup.
Returning Equipment After Event
No matter how careful you were while handling the equipment, there is always a possibility of something being damaged during transit or even during the event. Packing up can be a bit of a chore after the event. This is where your equipment can break or be misplaced.
Therefore, it is advisable to choose a professional company that handles the setup and return process. They should be available near the venue for prompt assistance.
When you choose OneStop AV, from the moment we receive your inquiry until the day you return your rented equipment, you'll find us to be extremely responsive and helpful. We can help handle all aspects of your project, including logistics planning, shipping, returning, and technical support. If your event is local to Boston, we can help with set-up and break-down.
For events being held elsewhere, we have fast nationwide delivery and pick-up to ensure a hassle-free experience. We provide overnight delivery to major cities within the US. We ensure that every step of the way, you're satisfied with the final result. So feel free to contact us today!
Terms and Conditions
Know the terms and conditions of your contract when you sign up with any company. Make sure you understand how long you are renting the equipment and if there is an option for an extension. You also should know what will happen if you run into any problems with the equipment. These may include:
In case of damage to the equipment, would you be responsible for the repairs?
If the device malfunctions, do they send a replacement?
Don't forget to ask about cancellation and termination rights!
It's best to review the rental agreement carefully to see if there are any hidden clauses you didn't notice. Make sure that everything mentioned in the contract is clear and thorough.
Documentation
You should also make sure that you document all steps taken in order to prevent problems later down the line. Make sure you have a proper record of which brand and model of laptop computer rental and other technology rentals you had.
Reputation
When selecting a rental company, choose one that has the right equipment, the experience working with a company or on an event like yours, and a reputation for excellence. You can read reviews online or try to find acquaintances that have used the services of the Boston laptop rental company before.
OneStop AV Rentals Is the Best Choice for Boston Laptop Rentals
Before making a decision to rent any device, always go through your requirements first. Take into consideration what kind of device you need. Does it have specific configuration or software requirements? Do you have a brand and model or operating system preference? If possible, try to test the device beforehand, so you know exactly what you're going to get.
Consider whether you need just a few laptop rentals or if bulk quantities are needed. You'll want to find a rental company that has enough inventory to meet your demand.
Lastly, it's very important to use a reputable company with a track record for success. Not only does it bode well for your event, but you might find a new go-to supplier for all your future events.
At OneStop AV rental company, we have been providing affordable access to top-of-the-line technology for years. We understand the importance of having reliable products without compromising quality. From delivering laptops for trade shows and business meetings to supplying audio visual equipment for conferences and presentations, we have the right solutions for everyone.
If you're thinking about renting laptops in Boston, then contact us today at 1-800-782-1706 or request a quote online here.