Corporate event planning is an integral part of running a large, modern company, and if you're not careful, it can be quite expensive. Your corporate event is where your current and potential clients, employees, and other essential people get to see what you have to offer so you must make sure the experience is excellent. With that in mind, meeting planners should know that renting office equipment will help you create a more professional-looking space for your event and guarantee you have what you need.
An office rental company can provide many different types of items, not just computer rentals. These items range from microphones to printers and everything in between. You may need a projector to show video presentations or a custom-configured PC to train employees on new software. Whatever you decide to do at your next event, you'll want to rent computer equipment and accessories to make it run smoothly.
Renting office equipment for a short period instead of buying what you need and then having unused inventory is the most effective way to cut costs on corporate events.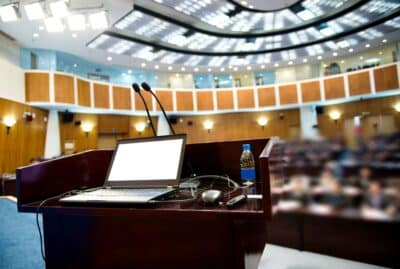 How Does Renting Benefit Your Corporate Event?
In the realm of technology rentals, most companies focus on PCs, laptops, tablets, printers, mobile hotspots, etc. These are all items that companies need to run their events or meetings smoothly, but there are also many other types of technologies available to rent, like routers, webcams, projectors, data storage, data backup equipment, servers, etc. The list goes on and on! There are many different pieces of tech that can be rented, and these days it's easy for almost every business to find a compatible option.
By renting, you can focus on the more critical aspects of running your event instead of spending time researching, buying, and collecting office and computer equipment. For example, say you have an extensive training session that will include attendees from offices around the country. You don't want to worry about having enough laptops or printers during this session so why not rent them? Computer rentals are also a great way to utilize the latest technology without investing a lot of money.
Office equipment rentals are convenient because they allow you to bring in all the items you need at once and easily make sure you are prepared. Having quality equipment delivered right to your event location will save you time and money. It keeps you from storing and transporting heavy equipment and bulky items.
OneStop Computer & Audio Visual Rentals
OneStop Computer & Audio Visual Rentals provides high-quality audiovisual services to businesses throughout the United States. We specialize in the rental of computers and their accessories for every type of business, including small businesses, mid-size companies, and large corporations.
With an extensive selection of over 400 laptops, plus Apple iPads, projectors, monitors, audio technology rentals, and much more, OneStop can supply rental equipment for any size event. We provide first-class rental products and professional service at affordable prices. Our mission is to ensure our clients can focus on their actual event, not the equipment. This means we deliver only the highest-rated equipment available and pay close attention to detail as well as the customer experience.
When you choose OneStop Computer & Audio Visual, you get:
Wide Range of Technology Rentals
We offer hundreds of options for various devices such as iPad tablets, laptop computers, speakers, cameras, projectors, microphones, and software. Many of our computer rental options require no set-up prior to use; plug them into an outlet, activate the device, and start using them.
We pride ourselves on providing top-of-the-line solutions to fit nearly any budget, from the latest laptop rental equipment to advanced gaming systems. If you're looking for a low-cost alternative to an expensive PC, we've got it. Our goal is to provide access to higher quality equipment than what you would already have at your office. In addition, we strive to make sure that we deliver the best possible experience for our customers and have technicians on hand to help with any issues.
With our computer rental options, you can choose exactly what you need, when you need it. This means you can avoid unnecessary expenses and keep your budget under control. Furthermore, you will always receive the highest quality product available and technical support when you rent equipment.
Whether hosting a conference, training session, or organizing a team-building activity, you can count on us to meet your expectations. Our high-range computer equipment includes Apple Macbook Pros, Lenovo Thinkpads, Apple iPads, gaming computers, projectors, printers, mics, and more. All are available for long- or short-term rentals.
Custom Configurations
Many of our customers request custom configurations for our rented equipment. Some may want to add extra ports or upgrade to larger models. Others may want to attach additional peripherals like hard drives or docking stations. We'll be happy to accommodate whatever needs you have to ensure you enjoy the highest level of flexibility and convenience.
We also understand the need for personalization, especially when dealing with budgets. That's why we offer custom configurations for event rentals, allowing us to work within your budget while still delivering the highest quality equipment.
You can select custom configurations specifically for your corporate event's unique needs. For example, if you are looking for specific software or accessories, we can help you find the right solution for your computer rental needs. Renting all-in-one computers allows you to set up an entire system for your event, saving you time and hassle.
If you are looking for a custom laptop, projector, speaker system, microphone, or other AV equipment, you can request a quote online or call us directly at 1-800-782-1706 to rent computers for corporate events or whatever kind of events you're planning.
Nationwide Delivery
Whether you need equipment delivered by couriers nationwide or locally, we'll get it there quickly, safely, and in the exact custom configuration you requested. Our delivery team works tirelessly to ensure your equipment is provided promptly for your next event. If you need your computer rental equipment delivered quickly, we can do that too!
At OneStop Computer Rentals, we conduct extensive inspections on all the laptops, televisions, and other devices we rent. In addition, every piece of equipment we ship is thoroughly tested at each stage of its journey from our storage to ensure that it's in 100% working condition when it arrives at you.
You can count on us to provide prompt delivery and outstanding customer care. We guarantee that our equipment will arrive on time and ready to go. We are just a phone call away, no matter where you are, if you need technical support. Contact us today to see how we can supercharge your next event.
OneStop is your source for nationwide audio-video rentals: computer rentals, speaker rentals, iPad rentals, etc. Rent the latest event technology today! Call 1-800-782-1706 to speak with a computer rental expert now.
Save Big With Us!
Office equipment rentals save you money because they don't require you to buy any new equipment ahead of time. This means fewer setup fees and potentially higher savings on equipment maintenance costs. It also helps you avoid spending extra cash buying equipment that you won't end up using.
No need to invest in high-priced equipment – let us handle everything. We have the latest and greatest gaming laptops, MacBook Pros, software, and operating systems. We are the first one in the industry to offer NVIDIA GeForce RTX 3080 or any RTX 30 series graphics card. Get fantastic performance without breaking the bank.
What's more? You'll be able to use your rented equipment immediately after it has been delivered. When renting equipment, you're not locked into anything. Most rented items are returnable at any time during the rental period without incurring additional charges.
Planning A Successful Corporate Event
The first step in planning a successful event is to determine which kinds of equipment are needed for the event. You might need projectors, computers, printers, servers, and more. Knowing what type of items you need will help you decide how long to rent them for and how much they should cost.
When searching for suitable rental products for your upcoming corporate event, keep in mind that there is no single best way to rent equipment. There are various options available and each has its strengths. The critical thing to remember is that you don't necessarily need the most expensive equipment to make an impact during your company's event.
Your goal is to find enough equipment to give your employees a chance to work well together while providing guests something to remember. The trick lies in the proper mix of different types of equipment and the number of pieces used. A strong blend is essential since often the quality of the presentation depends on the equipment being used. Remember to include projector screens, podiums, microphones, mobile hotspots, and any other elements required for the room or area.
Include Everything From Speakers To Laptops
If you want to get maximum value from your team, it's essential to have a plan, so everyone knows their responsibilities.
Having a clear understanding of how the equipment you consider fits into your event and overall business strategy will ensure you get the best possible experience. If your company has a small budget, but needs the same technology that larger companies would need, renting may be the better choice.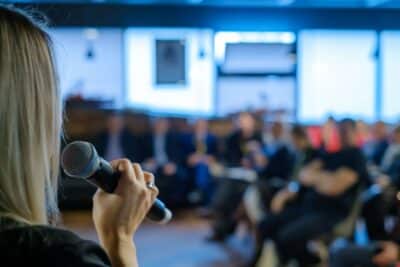 Office equipment suppliers can save you a lot of time and money! Sometimes computer rental companies provide discounts to businesses who buy large quantities of equipment. These prices are usually applied when you purchase four or more pieces of equipment. That means you could potentially benefit significantly if you buy a certain quantity. Start researching now and let us know if you'd like us to send you a quote. We'll work hard to meet all your needs and exceed your expectations because we understand that when you choose us, you're choosing a partner to make your event a success!
Don't Forget About Technology Support
As previously mentioned, the equipment you select plays a big part in making or breaking an excellent presentation. Another key component you must have when getting ready for your next corporate event is technical support.
You need someone who knows exactly what each product does, how to configure it, and how to operate it properly. Once you've chosen your equipment and booked your venue, you still need to get it set up. Before using the equipment, have a technician check all connections, ensure that everything works correctly, and confirm that power settings and other aspects of the system have been optimized.
You also need to be mindful of any particular software requirements and operating systems that may come up. For example, the software required to run a web-based presentation might not be compatible with an older computer not equipped with the latest hardware upgrades.
The last thing you want is unexpected problems popping up during the presentation itself; these issues can cause significant delays and interruptions, which can turn an otherwise successful event into a disaster. Make sure you have someone available 24/7 to respond immediately to any issue you encounter.
Why Not Work with Us For Your Next Corporate Event?
From project-based installations and set-ups to one-time event rentals, we have you covered! Our highly trained team is here to assist you every step of the way so that you can concentrate on your event rather than having to spend hours troubleshooting or fixing issues.
Reach out today to learn more about our rates and packages. You'll quickly see why we're different from everyone else and your decision to book with us will be well worth it. If you'd like to receive free quotes and pricing information on audiovisual rental solutions, contact us now!
Contact OneStop Computer & Audio Visual Rental
We take pride in offering the best selection of audiovisual equipment available for any corporate event. With many years of experience, we know what it takes to create an unforgettable presentation. No matter the size of your event, we can help you plan and execute it flawlessly.
OneStop Computer & Audio Visual Rentals presents an easy way to plan your next corporate event. You can reserve equipment online or contact us by phone. Our friendly staff will be happy to assist you with any questions about renting equipment.
For more information about our services, please call us at 1-800-782-1706 or request a quote online. We typically respond within minutes or less if you request a quote during business hours. Obtain the most innovative rental products in all major markets: New York, Chicago, Las Vegas, San Diego, Orlando, Dallas, etc.