Planning is an essential part of running a successful event. It involves organizing everything from finding a venue to making an event schedule to making sure you have the right equipment. Whether hosting a company anniversary party or organizing a product launch, having the right audio visual equipment can help create the perfect atmosphere and make your event a success. A competent AV system can infuse a great deal of energy into your setting, get your message across, and add a touch of professionalism that will impress your guests.
However, it's not always easy to determine precisely which equipment would work best for your occasion. As an event planner, it can be tricky to know if you need professional-grade sound or top-of-the-line visuals. It might also be challenging to determine which equipment to buy when you have no idea how much money you'll eventually spend upfront. Furthermore, having a constrained budget might require you to compromise on quality, potentially harming the overall experience.
That said, it doesn't mean you shouldn't try to find a solution that works for your needs. After all, you want your event to go off without a hitch. Why wouldn't you want to execute a memorable event that leave your audience in awe?
By renting quality audio-visual equipment from OneStop Computer & Audio Visual Rentals, you can ensure your event has the equipment to be successful while allowing you to focus more on other details of the day. You'll enjoy a worry-free rental period while we take care of the rest. Our team members are experts at helping you select the right video and audio equipment for any event, and they will ensure everything goes smoothly.
This guide has compiled everything you need to know about AV rentals for your next big event. We hope this information will help you discover why renting is more accessible than buying, provide equipment recommendations, and offer tips on choosing the ideal setup for your next event.
Why Is Audio Visual Renting Easier than Buying Equipment?
The truth is that most people don't know what kinds of equipment they need until they start thinking about their event. Even after you do some research, there probably still isn't enough time to properly test every piece of equipment before your event date. On top of that, some organizers don't realize it's possible to rent almost anything for just one evening – including digital projectors, speakers, mixers, and more. Renting lets you see how things perform together firsthand and gives you plenty of time to tweak the setup.
Below, we've highlighted several reasons why audio visual renting makes sense for anyone looking for a hassle-free way to prepare for your next trade show, conference, large meeting, or another event. Renting works better than buying because;
1) You don't need to commit to buying equipment upfront.
If you choose to rent instead of purchase AV equipment, you won't have to worry about incurring huge costs upfront. Instead, you can pay each for the rental period and only pay for what you use. You can save money by not having to pay an excessive amount to own the latest models or extra equipment just in case something goes wrong.
2) You don't risk damaging your investment.
When purchasing equipment, you may spend thousands of dollars on items that break or malfunction within days of your event. If an item does fail or get broken, it can cost you thousands to repair or replace.
3) You don't have to worry about storage space.
As you simply rented your equipment, you can store it safely at the venue during the event. If you only need it for a short period, you can return it and won't have to worry about what to do with it after the event. You won't have to use office space to keep an inventory of audio-visual equipment that is only pulled out once or twice a year and just sits unused on a shelf the rest of the time.
4) You won't run into potential problems.
With rentals, you can be sure you'll receive quality gear in working order that meets your expectations. If anything goes wrong, the rental specialists will be able to resolve the problem or send replacements.
5) Rentals are easy to cancel if needed.
If you change your mind about renting or the event is canceled, you can always call and change the rental without penalty, as long as there is enough notice. The same cannot be said if you purchase the equipment and have already used it. It is often difficult to return if you've installed software or personalized it to your needs in other ways.
6) You can avoid transporting heavy equipment.
Even when planning small events, you'd have to transport large equipment such as speakers, TV stands, video cameras, laptops, printers, etc. from storage to the venue if you'd purchased everything. These bulky items can be very inconvenient to lug around. Fortunately, you don't have to deal with these issues by renting your AV equipment; it can be delivered right to the venue.
7) You will have access to the largest inventory.
While some companies can only outfit a small gathering, larger audio-visual businesses like OneStop AV have ample options and plenty of inventory to meet unique client needs. From laptops and gaming computers to microphones and sound systems, our company has the equipment needed for your next event, large or small. Whether you're looking for a simple laptop rental for employee training or a complete AV package for a trade show presentation, we can help!
8) Rental equipment is great in emergencies.
While you may not always need high-end gear, sometimes unexpected circumstances arise. No matter the situation, you'll never find yourself at a loss again, thanks to the flexible nature of renting. Contact OneStop AV, and we can provide the gear you need and ship it overnight to get it to you quickly.
When it comes to getting ready for an important event, there are a lot of things to consider. The last thing you want is to stress over whether or not you're choosing the right supplies. If you don't pay attention to details, your entire setup could quickly become a disaster.
However, with OneStop Computer & Audio Visual Rentals, you can breathe easy knowing we've got you covered. We offer a wide variety of high-quality equipment at reasonable prices, ensuring you have all you need to deliver memorable presentations.
We also understand how important it is for you to feel confident before each event. That's why we strive to make your experience easier than ever by providing prompt service and professional guidance every step of the way. To get started, simply give us a call today at 1-800-782-1706 to learn more about what we have to offer.
Audio Visual Equipment Recommendations for Event Planning
No matter if you're setting up a private gathering with friends or giving a keynote address to thousands of colleagues, you want to be prepared. Luckily, you don't have to go through the process alone. At OneStop AV, we know exactly what you will need to produce a flawless presentation.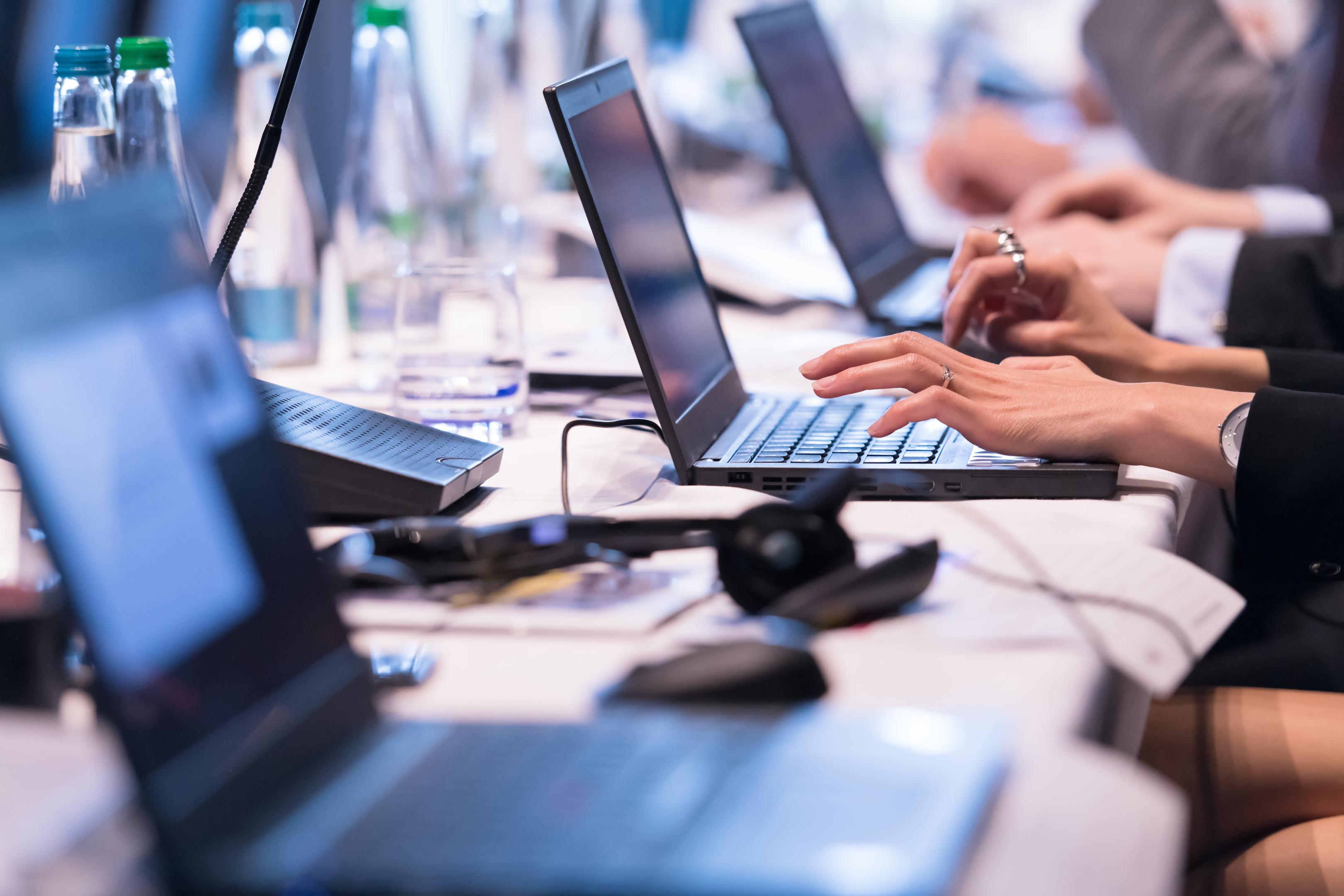 Here are several areas where we can help improve your event:
Laptop Computers – Stay Connected with a Reliable Machine
Having a reliable computer is essential for pretty much any job nowadays, especially when dealing with complex data processing and multimedia applications. In other words, your laptop computer should have enough power to handle even the most demanding tasks without crashing or freezing during an important presentation.
Luckily, our top-of-the-line laptops have a Core i9 processor and 64 GB RAM, helping them run efficiently throughout long events.
Monitor – See Your Presentation Clear as Day
In addition to being able to operate your laptop, you need a reliable monitor if you want the audience to see your presentations clearly. With the right TV screen size for your next seminar, you can maximize the impact of your presentations while offering attendees the best viewing experience possible.
At OneStop AV, we offer 4k ultra HD TV monitors with sizes ranging from 24 inches to 86 inches. Their superior image quality will ensure that your audience can clearly see what you're trying to convey.
Projector – Get More From Less Space
If you plan on delivering large group lectures or speeches, you'll appreciate having a projector and screen available during your presentation. An LCD projector can connect to any computer so you can play a video or show a slideshow to a crowd of people and keep their attention.
Our 5K LCD projector provides bright images on any surface, making them perfect for indoor and outdoor events alike. 
Microphone – Capture Every Word
While a good microphone is vital for capturing clear and crisp audio, these devices also play an important role in ensuring that your presentation doesn't suffer from feedback issues. That's why you'll want one that provides optimal isolation between you and your audience.
We carry the best digital wireless microphones delivering rock-solid RF signal stability without audio artifacts.
Speakers – Deliver a Loud Soundscape to All Attendees
As part of your audio-visual setup, you'll want to include speakers that allow everyone in attendance to hear properly. As such, you may need to have a few different pieces of sound system equipment. like microphones and mixers, to go with your speakers, depending on the venue size.
For example, if you're hosting an event in larger venues like concert halls, you'll probably require high-powered QSC K.2 Series speakers. 
Channel Mixer – Control the Audience Reaction
Even though you might not realize it, your channel mixer plays an integral role in determining whether a particular speaker system works well or not. This is because they control both the volume level and frequency response characteristics (i.e., how loud or soft certain frequencies sound).
Renting a quality channel mixer of the brands like Shure or Mackie ensures a more natural and appealing soundscape.
Printers/Copiers – Make Copies of Important Documents
At many events, there is usually a point when you need copies of documents to have participants fill out forms or distribute important information. We understand that you probably don't have a lot of extra space at your disposal, we make sure that our printers are compact yet highly efficient.
Accessories – Enrich Your Setups with These Extras
You can never have too many accessories when organizing your audio-visual equipment. Fortunately, at OneStop Computer & Audio Visual Rental, we've got everything you could need, including TV floor stands, mobile hotspots, wireless computer mouse and keyboard, cable locks, desktop switches, and more.
When you rent from OneStop AV, we provide nationwide audio-visual rentals with no hidden fees. So what are you waiting for? Contact us today to get started!
Planning an Event? Here Are a Few Things to Note
While organizing an event, it's imperative to gather some vital details on the venue. From how your equipment will need to be set up, as well as its placement in relation to the stage, exhibit booth, boardroom, and so on will be. With these factors in mind, here are some recommendations for preparing for an event of your own.
Consider Space for Equipment in the Venue
Even though you might be renting audio-visual equipment from us, the fact remains that you still need to ensure that there is adequate room in the venue before making any last-minute orders. It's advisable to plan where each piece from your rental order will go and that it has a power source. You don't want to get stuck with equipment that has no place or a dead battery.
Does Venue Provide Any Equipment?
In some venues, they have built-in audio-visual equipment capabilities for use. While this might make your life easier in terms of having no need to hire additional equipment, it could be out of date or incompatible with your own technology.
Depending on what type of event you will be putting together, you may also need to factor in other considerations, such as if the available speakers or channel mixers are sufficient for your purposes. It's essential to consider your specific event requirements; otherwise, you're likely to be missing a key piece.
Does the Venue Have Good Lighting?
Whether setting up a formal banquet or a major conference, you'll want to plan ahead for lighting needs. If the venue has its own lighting systems or not, you'll want to consider everything you can expect to see or hear, which means getting to know the lighting system at the venue.
This is especially important as you try to plan for special effects during events such as trade shows, business meetings, and corporate events. It's also worth noting that in some instances, the venue's lighting equipment will be used to brighten dark corners of the venue as well as highlight areas such as the stage.
As an event planner or organizer, you can never have too much planning flexibility! Use our audio, visual, and technology rentals service to find the best options, get price quotes, and book quickly online or over the phone. 
Customized AV Equipment Rental Company to Make Your Event Easier and More Functional
At OneStop Computer and Audio Visual Rentals, we understand how much time and effort goes into preparing for each event, from a small business meeting to a large conference presentation. That's why we offer personalized services for all types of events. We help clients choose the right equipment rental solution, whether you're looking for computer rentals, a simple projector, or a complex sound setup. We carry top brands like Apple, Lenovo, QSC, Shure, Mackie, and TP-Link, bringing you their most popular products at affordable rental rates.
We accept a wide range of rental periods from one day to several months. We also offer support from trained technicians and professional equipment installation for local events. Our rapid nationwide service is backed by our friendly customer support team, who work hard to answer questions or troubleshoot immediately.
Reach us by phone at 1-800-782-1706 or contact us online to get started today! We are here to help your next event go off without a hitch!