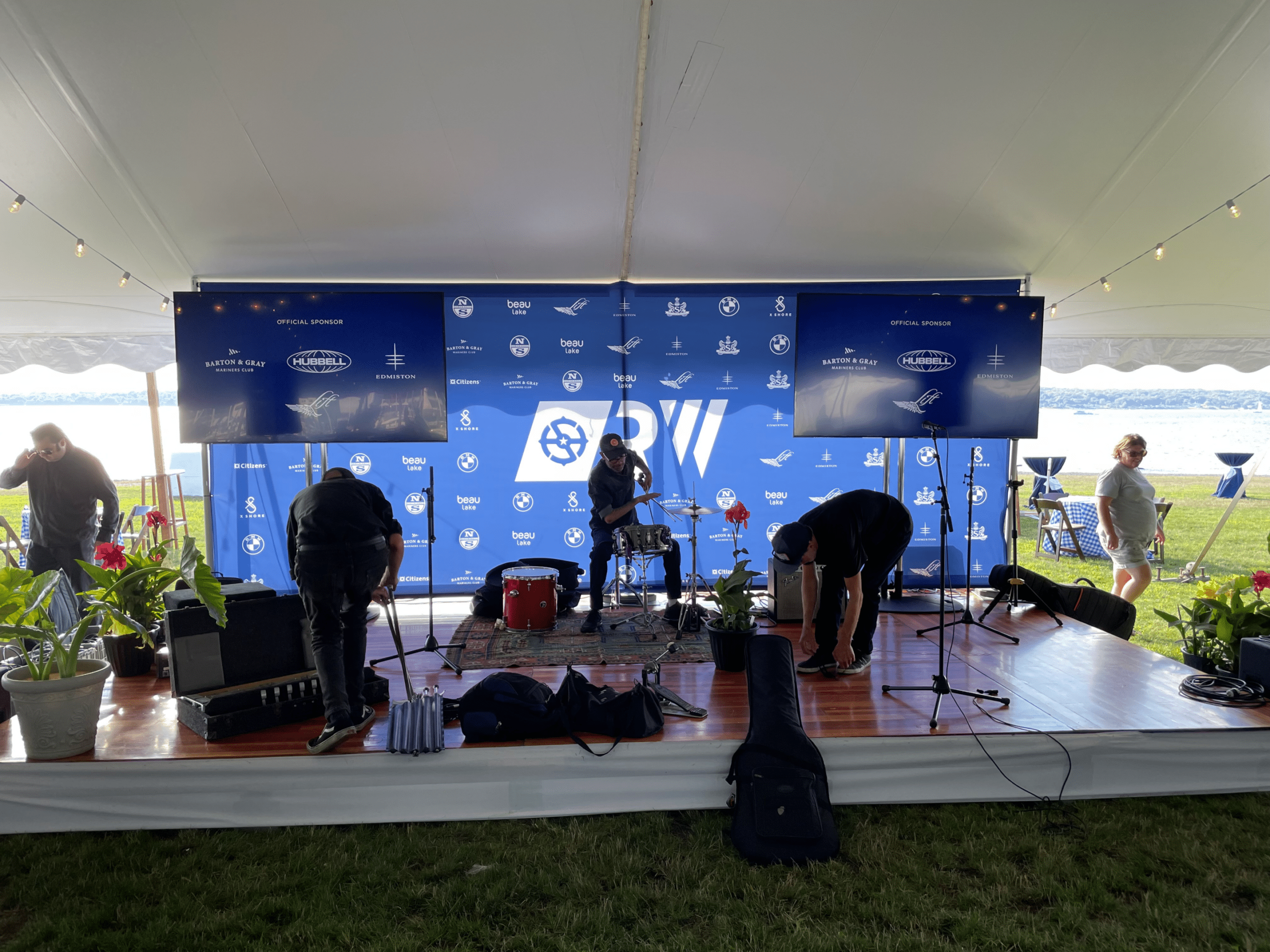 Want to pull off a flawless event with visual aids and presentations? Then you need to know how to choose the right rental TV for your next big occasion.
Whether you're looking to make a big impression at a trade show, need a reliable display for digital marketing, or want to add a touch of class and sophistication to an upcoming corporate presentation, having the best equipment is key.
In fact, renting the right television size can be one of the most important decisions you make in setting up your event. The wrong choice could mean people cannot see your message, which would ruin your brand reputation and may leave attendees bored. Poor visual quality might even detract from the overall experience.
At the same time, choosing the right TV size will ensure guests stay engaged throughout your presentation, allowing you to showcase your messaging, product, service, news, or other promotion in all its glory.
In addition to the apparent benefits of getting it right, we've put together this guide on what makes the perfect rental TV. We'll also give you tips on picking a suitable TV for whatever purpose you have in mind.
How Can TVs Make Your Event More Engaging?
The simple truth is that great events are created by using great technology. Successful presentations are all about showing off your ideas in their best light.
Whether you're presenting to clients, potential new customers, employees, or shareholders, striking visuals is an effective way to engage people with your message. There's no better way than to use high-quality televisions to showcase content in its best light.
TVs are an ideal way to create memorable moments and spark interest in your audience. Not only do they allow you to present your intended message, but they can also help you create a more immersive experience.
From large displays used as backdrops to smaller screens that fit comfortably within conference rooms, TVs are an excellent way to transform the atmosphere of your event. They can be a focal point for attendees to watch and comment on while creating a buzz around your brand.
If you want to draw attention to a particular part of your presentation or promote your brand in style, renting the right size TV could be just the ticket!
By using the right size TV for your event, you can create the optimal viewing environment that will keep your audience engaged and captivated.
OneStop AV rentals has TVs and other audio-visual equipment from top brands ready to support your next big event. Contact us now and see how we make any space come alive.
Events That May Need Rental Televisions
There are many ways to enhance your event with visual aids, videos, graphics, live feeds, and more. From a simple PowerPoint presentation to a full-blown production with live music, there are plenty of opportunities to make a statement.
When it comes to hosting a corporate meeting, a trade show, an exhibition stand, a company picnic, a training session, or something else, there are many instances where you can improve the atmosphere with rented TVs.
Here are some of the events that might benefit from having a TV on hand:
Trade Shows and Trade Show Booths
Perhaps the best example of an event where screens play a crucial role is at trade shows. TVs can be set up in pivotal places around the venue. Providing visitors with a clear view of the schedule of upcoming presentations is a must-have at these events. They can also be used to highlight certain booths or give important information.
If you plan on displaying anything in a trade show booth, such as product demos, videos, or slideshows, having a large screen in plain sight allows you to show them off to attendees in full detail.
Conferences
Conferences tend to be filled with many people interested in learning more about your company, products, or services.
From small gatherings to huge conventions and expos, providing attendees with live TV feeds across the hallways or throughout the venue can add value to the event. It allows everyone to participate and enjoy a larger perspective of everything happening without getting stuck behind a wall.
Corporate Events
In a similar vein to conferences, corporate events often involve companies showcasing themselves to their peers, colleagues, and other industry players. These types of events work particularly well when it comes to showing off new technology or innovations.
By utilizing a giant television display in the center of the room, you can drive home the benefits of what your organization does.
Digital Signage
If you're looking to grab the attention of passersby or simply advertise something, then using the high-definition capabilities of TV sets can be a great choice.
You can vividly display webpages, play a slideshow, show videos, or send marketing messages to give your brand a boost. If you're planning on utilizing this medium to deliver messages to customers, you should consider ensuring the TV rental company has access to a big enough screen.
Special Events
Every so often, you or your company might be holding a special event that requires a TV display. Maybe you're hosting a viewing party for the big game, maybe you're conferencing in a special guest speaker, or maybe you're holding an awards ceremony for top employees. You might even be planning a wedding or anniversary party and want to show a photo slideshow! Whatever the occasion, having TVs set up will guarantee everyone can see and enjoy the show.
With high-definition picture quality, you can transform the ambiance of your venue while still keeping everyone focused on what's important – your message! No matter what event you are planning, we've got the ideal TV rental solution. Renting from OneStop AV is easier than ever with our flexible payment options and nationwide delivery logistics system. Contact us to get a free quote and find out how much your next event stands to benefit from renting a TV!
Factors to Look for When Choosing a TV For Events
You'll need to consider several things before finding the right size and type of TV set to rent for your upcoming event. Whether you want to use the TV as part of a digital signage system, run a video presentation, or video conference, here are some key points to remember when choosing the right rental TV.
Consider the TV's Use
Depending on your event requirements, different scenarios will apply. You need to consider the tech specifications when choosing a rental TV.
If your presentation showcases a lot of numerical data, you'll want a TV that is easier to read from all angles. If you'd like to use the TV to stream live footage, high frame rates might also come in handy. Similarly, if you are broadcasting 4k content, you'll need a TV that can properly handle the high resolutions.
You should also consider any accessories that will be used in conjunction with the TV. Will you need a camera, mic, or computer hook-up? How many HDMI or USB ports will you require? The critical thing here is that the TV you choose should be capable of handling what you want to do with it.
Know Your Audience
Another factor to consider is knowing how big your audience will be and how far your audience will be seated away from the TV.
For instance, if you're looking to use it for a team meeting, you'll probably want to go with a smaller set since fewer people are watching. On the other hand, if you plan on having an open house where many guests will be present, you might want to opt for a large TV or multiple displays.
Determine Your Budget
The price tag will depend on several factors, including the size of your space, the number of TVs you need, and how long you expect to need them. If you're looking to rent a single unit or a smaller TV, you'll likely pay less than if you were to rent several units or a bigger model.
Once again, it depends on the purpose of the TV. If you are displaying content with a lot of text, graphs, or numbers, it doesn't make sense to compromise on size. However, if you don't have much money to spare, you can go a bit smaller if you display only basic image-based content.
Also, make sure you know what your budget will be ahead of time, so you don't spend more than you anticipated.
OneStop AV offers a variety of digital display solutions that are perfect for any occasion and any business. From LED TVs to LCD displays and smart TVs, our products are durable and versatile. 
With an eye toward meeting the needs of our customers, we offer diverse rental services to ensure your event goes off without a hitch. Call us at 1-800-782-1706 to learn more about our wide array of new TV monitors and accessories today!
Think About Any Accessories You Might Need
The last step before renting a TV is to consider accessories you might need for your rental equipment. You might not realize you'll need certain items after renting the equipment.
Verify if the Venue Has Accessories
Ensure the venue has all the necessary accessories needed for your display. This includes stands, mounting systems, power strips, extension cords, computer cables, and anything else you may need. If the venue does not provide all the necessary accessories, you may need to rent separate ones.
The best way to avoid this problem is by contacting the venue before renting the equipment. Ask them what accessories they have and what costs they may impose.
Know Where Your Equipment Will Be Placed
It's also good practice to check the site map provided by the venue to see where your equipment will be placed. Sometimes, venues won't give you a full picture of their layout. In that case, you should contact the venue directly to ask questions about placement.
Some venues have specific rules regarding the placement of TVs in their spaces. Placing your TV elsewhere than its intended location may cause difficulties when using it at the event.
If you decide to place your TV somewhere other than where it was supposed to go, ensure you have enough extension cords to reach each side of the screen. Also, note the length of your HDMI cords and other cables.
Check that you've thought through all these details before the day arrives to get the most out of your event. The last thing you want is to run into problems because you didn't plan properly.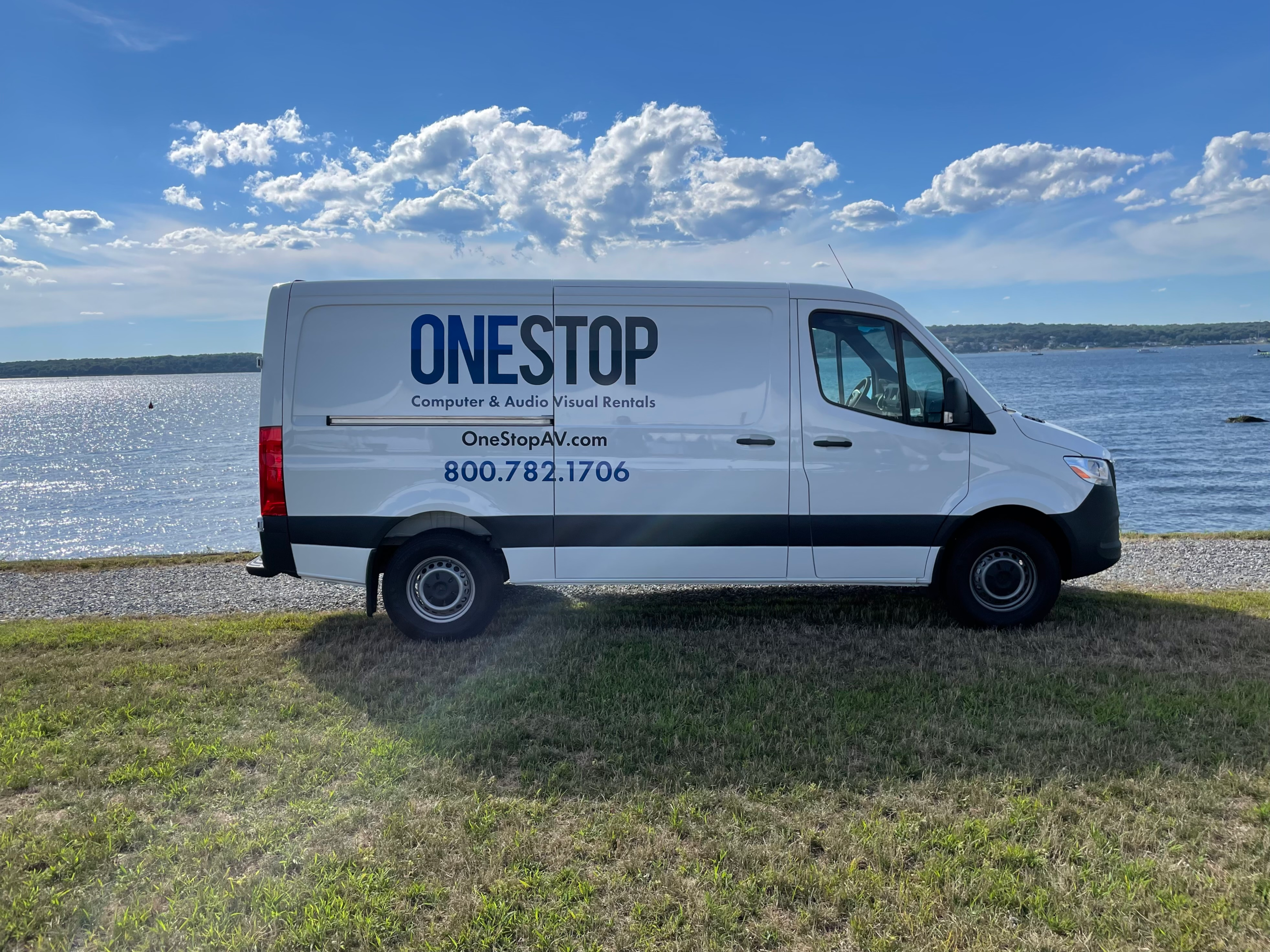 What OneStop AV Can Offer You
At OneStop AV, we specialize in providing top-quality rental televisions for any event. It doesn't matter if you're planning a party, company meeting, music performance, or trade show, OneStop AV provides high-quality televisions, audio-visual technology, and professional service to help you create a memorable experience for all attendees.
Our Range of TVs
We offer a broad selection of digital signage and video projection televisions in a variety of sizes ranging from 24″ monitors to 82″ TV screens. Our large format HD models can accommodate almost any size space. Whether you're looking for a single smart TV, dual monitors, or multiple 4K Ultra High Definition (UHD) displays, your options are endless with our expansive product line.
Our range of monitors & flat screen TV includes:
24″ Monitors
27″ Gaming Monitors
32″ TV / Digital Signage / Display
43″ TV / Digital Signage / Display
55″ TV / Display
65″ TV / Display
82″ TV / Display
Whether you require a one-off unit or larger-scale deployment, OneStop AV can work with you to ensure a stress-free experience throughout your rental engagement.
Accessories We Carry
Alongside our wide selection of televisions, we also rent various TV accessories. These include, but are not limited to:
Laptop Shelf Stands
Black Pole Covers
Dual-Post TV Stands with Wheeled Bases
25′ HDMI Cables
50′ HDMI Cables
25′ Extension Cords
50′ Extension Cords
Power Strips
Not only do these items improve the overall presentation of your displays, but they also make your event easier to manage. This means less time spent running around trying to find power supplies and more time interacting with those attending the event.
End-to-End Support
To add more value to your event, once you have decided which display equipment best meets your needs, we'll provide end-to-end support. If you are located in the Boston area, we'll help with setup all the way to break down. If you are located elsewhere, our support team will be on call at all times to help you through the event and handle any troubleshooting, so you don't need to worry about anything beyond taking care of the attendees and enjoying the event.
We are here to help you create unforgettable events!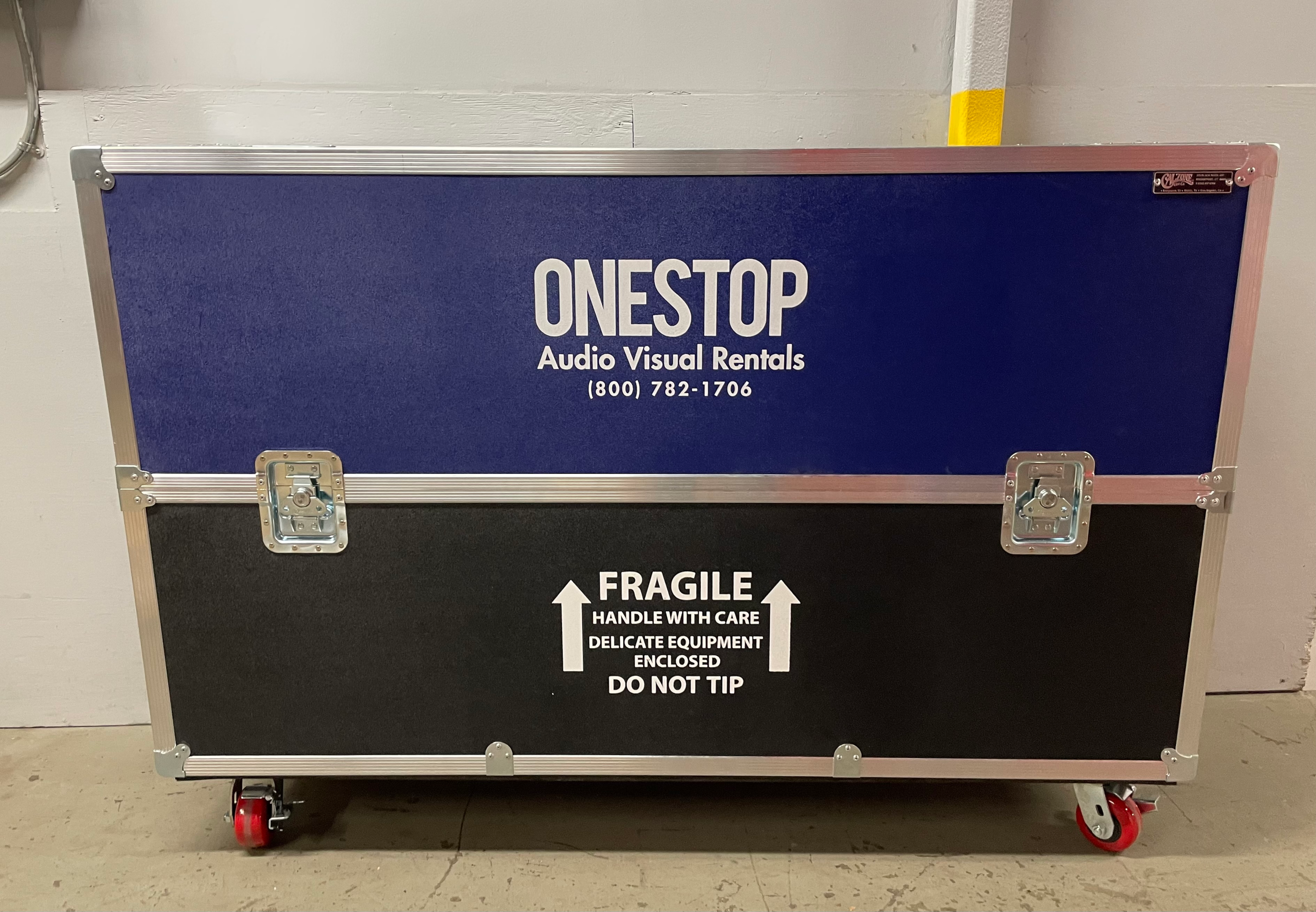 Need Help Choosing Right TV? Speak with Our Event Experts Today!
We've provided displays for hundreds of clients over the years. Let us know what kind of event you're planning and we can recommend a particular model that will best suit the occasion.
Our rental plans range from one-day to monthly rentals, depending on your needs. Please contact us today for a free quote or to learn more about our monthly payment plans agreement terms.
If you want to speak directly to one of our specialists regarding your next event, call us at 1-800-782-1706.