When it comes to displaying content at an event, there's no "one-size-fits-all" solution. Whether it's for an office meeting, a seminar, or a trade show event with hundreds of attendees, projecting visuals is often essential to successfully getting your message across.
Depending on your event's size and purpose, renting a projector or TV monitor may be the best option. Now that flat-screen TV monitors are ubiquitous and projection technology has become more affordable, the choice between televisions and projectors can be difficult for event planners to make.
To end the confusion, we have compared TVs and projectors to help you make an informed choice for your next event. Read on to learn how the right display rentals can help you make your event a resounding success!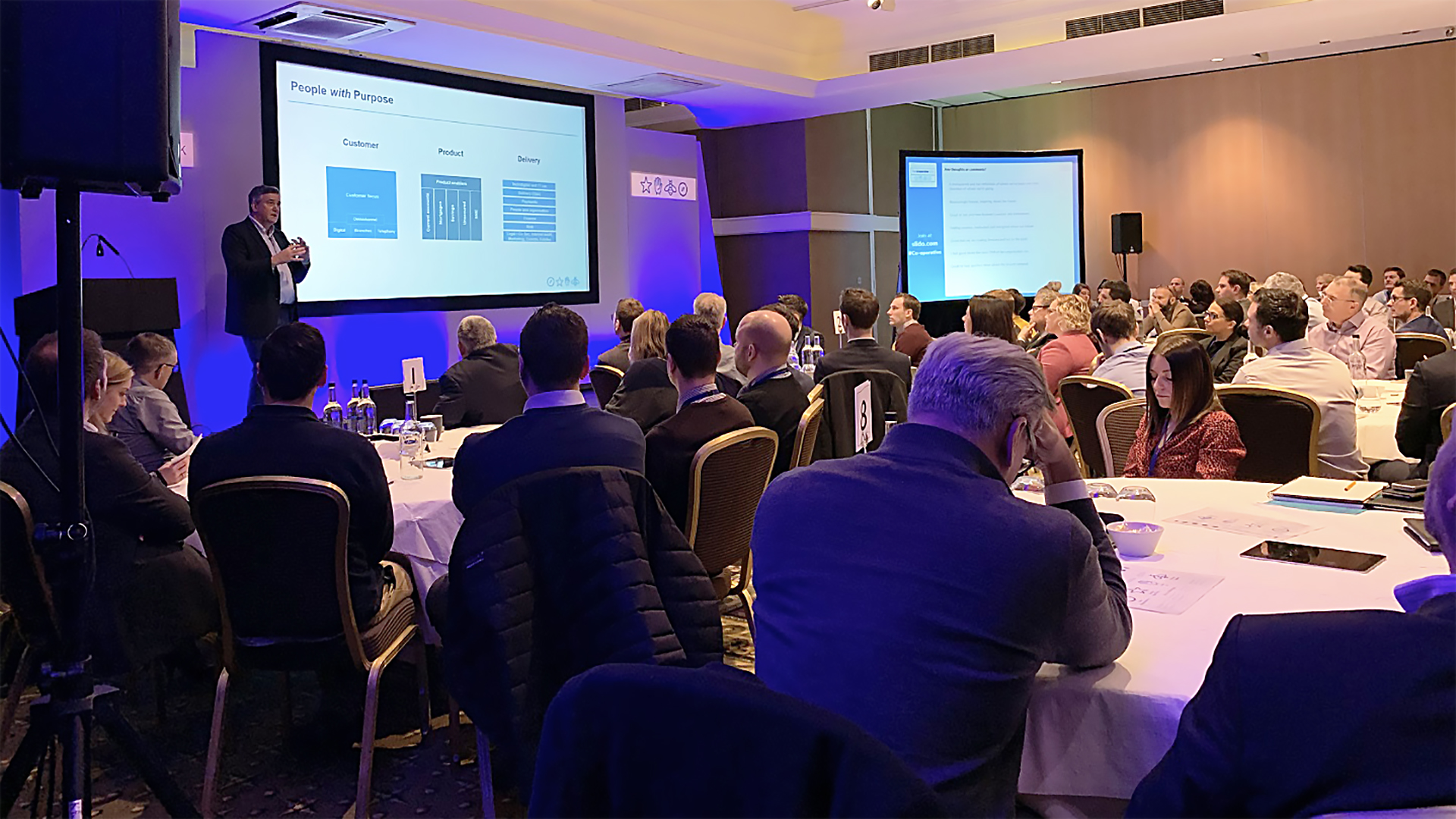 Projectors vs. TV Monitors: A Side-by-Side Comparison
Many factors weigh in when an event production specialist is deciding whether to rent a projector or television for their next event.
While televisions provide high-resolution and sharp images in almost any environment, projectors can be used to make an impactful impression with their much larger display of images and video content.
Let us break down each option separately to help you decide whether a TV or a projector is the perfect solution for you.
Projector:
Projectors have become a vital event tool, offering a high-impact way to present visual content and engage audiences. They can create a dynamic and immersive experience, making presentations, slideshows, and videos more effective and memorable.
The use of projectors also allows for room size and configuration flexibility and gives you the ability to easily display high-quality images and videos to a large number of people.
With the ideal projector and projector screen setup, you can create a professional and captivating atmosphere at any event.
Pros of Using Projectors
Larger Screen Size:
Projectors offer the ability to display images and videos on a much larger scale, making them a great solution for larger events and presentations. This can create an immersive viewing experience for your audience. Additionally, you can adjust the screen size to fit the room and number of attendees, so the attention to detail is always there.
Cheaper than a TV:
TVs with full HD undoubtedly offer ultimate picture quality, but that comes at a price. If you are planning an event with a tight budget, projectors can be a more cost-effective option than renting a large TV. Explore the range of rental projectors at OneStop AV; you'll be able to rent them at affordable rates.
Can be Used for Any Audience Size:
Projectors can be adjusted to accommodate any audience size, whether you want to host an event in a small meeting room or in an auditorium. Even if there is a larger crowd than you expected, you can immediately pull the projector back and rotate the projector's dial to adjust the display size.
Good for Presentations:
Projectors offer a larger display and a more engaging experience for the audience, which is critical for enhancing the presentation's appeal. These devices are designed for displaying images and video feeds, which will upgrade any presentation from boring to memorable.
» More: Reasons To Rent A Projector For Your Next Event
Cons of Using Projectors 
Lower Resolution Quality:
Modern projectors are amazing, but they do not have the same resolution quality as TV monitors, resulting in a less sharp image, especially when the screen size is stretched.
A Darker Environment is Required for Better Picture Quality:
While you can use a TV monitor anywhere, a projector requires a darker room to produce a clear image. Bright lights or sunlight can wash out the projected image, negatively affecting the audience's engagement.
Lower Audio Quality:
Projectors typically have lower audio quality compared to TV monitors, but that can easily be fixed by renting the right audio equipment.
You Need Adequate Space to Set it Up:
A projector is a compact device, but it requires you to install a giant screen and speakers, eventually occupying some space.
TV Monitor:
The presence of TV monitors at corporate events has increased significantly in recent years due to advancements in technology and the rising popularity of digital media. With the ability to display dynamic and eye-catching content, TV monitors can help you enhance the overall experience for attendees and create a lasting impression.
These monitors range in size from small screens that can be used as displays for presentations to large, high-resolution screens that can be used for advertisements and live broadcasts.
Pros of Using a TV Monitor 
High Resolution for Better picture quality: 
TV monitors offer a high-resolution display great for events because of the clearer, more detailed, and sharper image. Plus, the increased pixel density of high-res TVs allows for a more vivid and accurate representation of images and videos, which enriches the viewing experience.
Can be Used in any Lighting:
Unlike projectors, TV monitors don't need a particular lighting setup or lighting environment; the displays work well even in direct sunlight, making them perfect for events organized in bright venues.
Takes up Less Space:
HD TVs have a built-in screen and audio system, meaning they occupy less space than the projector setup. If there is a space crunch at the venue, choose TV monitors for rent.
Easy Setup: 
A TV rental eliminates the hassles of setting up the screen, connecting audio equipment, and adjusting the screen size. In a nutshell, you can quickly set up TV monitors giving you more time to spend on other aspects of the event.
High Audio Quality:
While the audio quality depends on the specific TV and projector in question and the environment in which they are used, TV monitors generally have better audio than projectors. However, you might not need external speakers when using TVs at smaller venues with smaller crowds.
» More: Choosing The Right Rental TV For Your Next Event
Cons of Using a TV Monitor
Smaller Screen: 
TV monitors have a limited screen size compared to projectors, which may not be suitable for large events or venues. And unlike projectors, you cannot adjust the display size. Renting a projector makes more sense if you are planning a big event.
Your Audience Needs to be in Close Proximity: 
There are rental TV monitors with high pixel count, accurate color reproduction, and high contrast ratios, but to enjoy the content on the screen, the audience should be in close proximity to the display.
As the distance between the audience and the screen increases, it dramatically affects the picture quality.
More Expensive Option:
A TV monitor rental can be more expensive than a projector rental. The reason is the higher cost of monitor panels and the risk of damage.
👉 Check Out TV Monitor Rentals
 The choice between renting a projector or a TV monitor for trade shows and other events ultimately comes down to your budget, the size of the venue, and the type of content you are displaying. TV monitors provide a high resolution and sharper image, but projectors offer more flexibility in terms of display size.
Are you still not sure about what to rent for your next event? Contact the audio and video experts at OneStop AV for expert advice on TV and screen rental services.
Additional Accessories You Need When Renting Projectors or TV Monitors for Your Next Event 
After you have decided between projector and monitor rentals, you should choose some additional accessories to give your audience an unforgettable experience and increase their understanding and engagement. The accessories we recommend may be necessary irrespective of whether you are renting a TV or a projector.
Wall Mount or Floor Stand
Secure wall mounts or floor stands are essential for keeping the TV or projector screen in place, especially if it is going to be used in a high-traffic area. It's important to choose a TV floor stand that is compatible with the specific TV and is able to support its weight and size.
Audio System
Built-in speakers on TVs or projectors may not be powerful enough to provide clear and loud audio for large events with big audiences. In such cases, you can rent an external audio system to enhance the audio quality. This can include microphones, speakers, amplifiers, and audio mixing equipment, depending on the requirements of the event.
HDMI Cables and Extension Cords
In order to connect the TV or projector to other devices, such as a laptop or gaming console, HDMI cables may be necessary. It's important to ensure that the correct cable is used for the specific device, as some devices may not be compatible with certain types of cables. Additionally, if the nearest outlet is far away from where you will be setting up your equipment, you will need to have extension cords to ensure you will be able to connect your audio-visual equipment.
Presentation Remotes
Delivering a successful presentation requires precise execution of visual aids, which is where a presentation remote can help. This tool offers a quick and easy way to move through slides, as well as access to other settings you may need during your presentation, such as adjusting the volume or playing sound effects. It also leaves both hands free so that you are not confined to a podium or desk the entire time and can freely move around the room without having to pause the presentation. A presentation remote ensures precise timing and delivery of your slides, resulting in an organized and powerful performance for any audience.
Rent the Best Projection Fit for Your Event With OneStop AV!
Whether you have rental needs for HD projectors or TVs, including LED displays and LCD monitors, OneStop AV has got you covered. We offer competitive pricing for multiple screens and even have other AV equipment available for a complete audio/video setup for your next event anywhere in the United States.
Our knowledgeable AV technicians can help you choose the right projector or TV rental, as well as other helpful accessories, to ensure your event goes off without a hitch.
For a quick quote, give us a call at 1-800-782-1706. Let us help you create an unforgettable event experience!